Diamana 'ahina review
November 3, 2010 by
Filed under Blog

It's been a while since posting a review, been busy with all sorts of amazing projects and I feel refreshed and thankful to be back into the swing of things.  I recently got out there to try the new Diamana 'ahina 70 Stiff flex in an Epon AF151 10.5 head .5 closed face angle.  I built the club un tipped with a final length of 45 inches coming in at a D3 swing weight.  I first want to comment on the Epon AF151 head, it's the closest thing I can find to the ol Epon 460ZR which was a hybrid golf club I am absolutely head over heels for.  On to the review…
About My Game:
I am about a 14 handicap today, I've been in the single digits off and on and recently more so hovering around a 16+.  I've wrestled with back and weight problems that have prevented me from reaching my full potential.  I naturally hit a medium trajectory ball and with equipment tweaks know how to get it a higher,  I'm very sensitive when it comes to equipment and feel and shafts.  The long game is my weakest aspect, accuracy has always been my key over distance.  My hybrid golf club swing speed is currently averaged around 97-100mph with a very fast tempo.  My bad shot is a slice or pull due to the common over the top problem while my good shot is dead straight.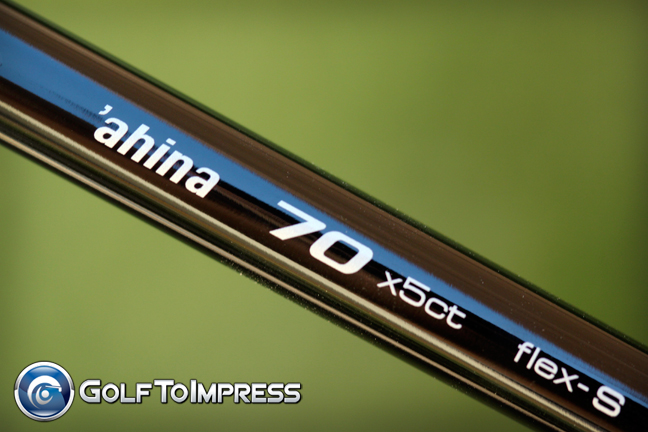 Diamana 'ahina review
I received a sample of the Diamana Ahina to review and requested  the heavier 70 gram version to help smooth things out with my tempo.  Keep in mind this is only one man's experience and also be aware that I shouldn't even be playing a high kick shaft in the first place.  Before building this Epon/ahina combo i had the Titleist VG3 in play with a Graphite Design DI-7 Stiff flex installed aftermarket by yours truly.  I am in love with this combo and will never ever sell it..:)
During the first round of play I did need adjustment time, The positive was that it was long no matter with a pull or fade.  My bad shot the slice had a tighter dispersion than with my Tour AD shaft.  This I can appreciate when my game is not on firing on all cylinders.  I feel that the extra distance came from spin reduction and the medium trajectory creating more forward roll.  With modest torque ratings at 2.7 its not difficult to turn over.
By the second round into the new 'ahina things were more fluid and I really noticed the great feel this shaft has which I contribute to it's softer but section.  Compared to other high kick low spin mid trajectory shafts it doesn't feel nearly as boardy as others.  The kick was smooth and well mannered all in all throwing the ball out into the 235-245 range for me which is great considering I was able to hit most fairways consistently. Below is a chart showing the stiff tip of the 'ahina and softer butt end promoting improved control and maximum kick/power in the downswing.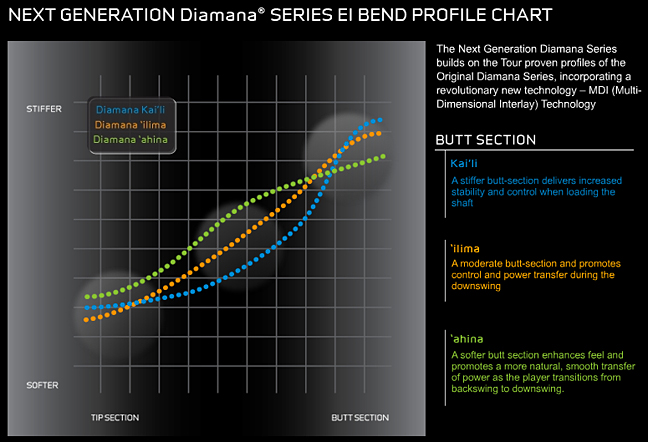 To sum it all up this shaft is great for those who already hit a higher ball and those who require a tighter dispersion.  I personally will not be using this shaft as I do not feel it serves my already low ball flight yet I can totally see it working very well for the faster swinger who go's after it and wants to keep their trajectory in check.  Overall It's an amazing step forward when compared to the Diamana white board improving on dispersion, feel, and distance.  I'm more of an 'ilima guy myself…  The Diamana 'ahina is now available at the TourSpecGolf Proshop for $360.00, need a discount?  contact us via PM through the forums.