Golf Club Giveaway – Golf to Impress Contest
November 5, 2010 by
Filed under Blog

November is the month of THANKS and GIVING here in the USA.   So we are committed to expressing our appreciation by giving away  free Japanese golf gear all month long to our customers, members, and visitors.   We are a success today because of you.   Remember you all are part of Golf to Impress.   We thank you!
These are great prizes and everyone has a chance to win.  Increase your odds by posting comments everyday!
Thank you for your support, loyalty, and participation!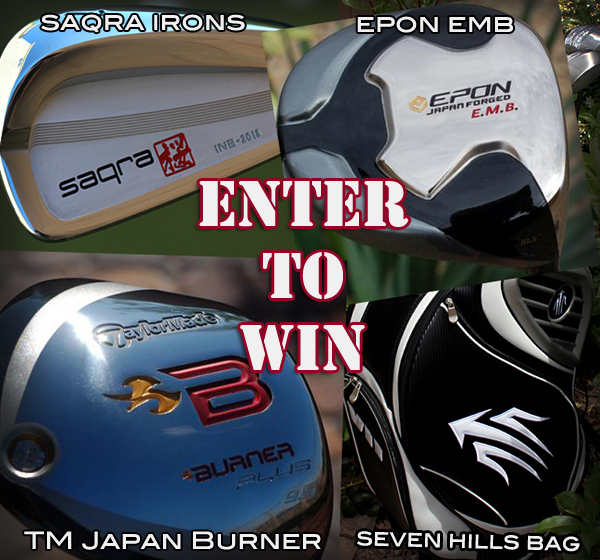 Giveaways:
Saqra CB 4-PW hybrid golf club set with Graphite shaft:  Winner announced Nov 15
Epon EMB 10.5 Roddio 6WA Stiff/Reg flex :  Winner announced Nov 22
Seven Hills Caddy bag:  Winner announced Nov 26
Taylormade Burner Plus 9.5 Stiff flex  :  Winner announced Nov 30
Guidelines to WIN:
1.  To enter you must sign up for the TSG Newletter AND subscribe to the GTI RSS feeds.
     -  TSG Newletter:  Click  here https://www.tourspecgolf.com/sign-up 
     –  GTI RSS Feeds:  See top left of GTI Blog.   Under Subscribe by e-mail enter your e-mail address and click Submit.  Follow instructions.
2.  Post comments on GTI blog using the e-mail address used to sign up.
3.  On the announcement date, 10 of the entries will be picked randomly.
4.  Of these people, the one with the most comments on the GTI blog will win the prize.
5.  Entries can win more than 1 giveaway.
6.  All giveways will be shipped for FREE in the USA.  We ask that international winners pay for shipping.
By Jacquelyn