Introducing the new 2011 Yamaha Inpres Fairway Hybrids!
November 3, 2010 by
Filed under Blog
For 2011, Yamaha will feature 3 fairway hybrids and a utility in the lineup. The 2010 Inpres X D Power Spoon remains from this year and is still the distance FW aimed to challenge PRGR's egg spoon. The new models are the V FW, the D FW and the D UT.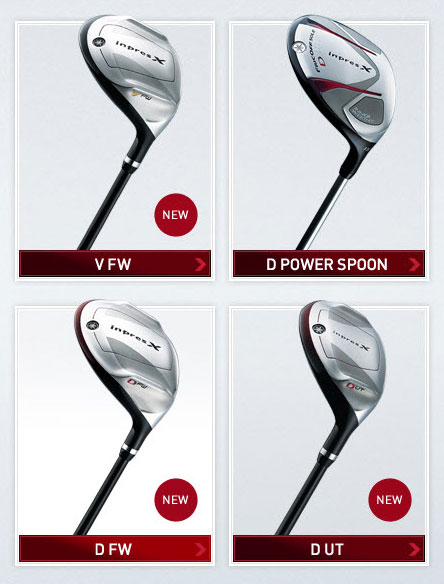 All the new clubs feature a newly designed Fric Off sole which was originally introduced last year. the new Double Fric off sole features double grooves on the toe and heel side of the sole in addition to the original Fric Off leading edge. Fric Off is meant to minimize friction and contact with the turf. Hitting a shot fat with the woods or too much friction before impact brings down head speed and reduces the chance of pure sweet spot impact.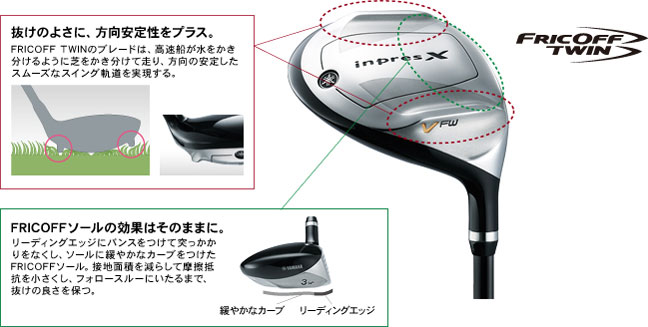 As with previous models the V FW features the smaller head among all the models and a square face angle. The CG is placed shallower and higher in the head for a more penetrating trajectory aimed at control and stability. The V FW is for the better golfer and faster swinger while the D FW is for the average golfer. The D FW features a larger head and a 0.5* closed face which especially helps the slicer. The CG is placed deeper in the head and lower which helps the slower swinger and mid to higher handicapper launch the ball in the air with ease.
The V FW 3 wood and the D FW all feature a thin maraging steel face which produces high ball speeds and feel matched with a soft SUS630 body. (The V FW 5 and 7 wood are all SUS630).

The new utility also features the Dual Fric Off sole which really helps it excel in all lies. The UT like the D FW features the high maraging face and SUS630 body. Both the D FW and D UT use new Yamaha stock shafts in the 50g range while the V FW uses a specially designed Graphite Design Tour AD shaft which features heavier weight (60g range) and less torque for control and direction.
Yamaha woods are always know for a solid but soft feel with great distance performance as well as control. All the woods are also available for custom order directly from Yamaha with many of Japan's top shafts. Release is November 27th!
By gocchin